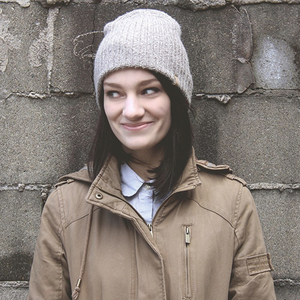 Christina Sharp
Co-Host of Nintendo Dispatch
Christina's first experience with video games was not being allowed to play her brother's Nintendo 64, instantly making her to want to play even more. Spoiler alert, she eventually was allowed to play, drifted her way through Mario Kart and eventually found her love of simulation and puzzle games through The Sims and Sim City. She isn't very loyal to a specific console but has loved playing games on The Switch, learning about and discussing everything Nintendo related, and sharing her thoughts on new games.
When Christina isn't playing video games she's running Cinder Design Co. with her partner, teaching, cooking, or outside enjoying the fresh air.
Christina Sharp has hosted 67 Episodes.
Episode | June 19th, 2019 | 55 mins 32 secs

3ds, e3, fortnite, mario maker, nintendo, recap, smash bros, switch

Michael is back from a week on the road and gives his full thoughts on E3 2019. We also have all the latest news including Mario Maker 2 online, Fortnite Horde Mode, Nintendo moving Switch production, and what happens when you fill your SD cards.

Episode | June 12th, 2019 | 1 hr 4 mins

breadth of the wild, dark crystal, dq xi, e3, luigi, nintendo, pokemon, switch, treehouse, zelda

We have your full breakdown of Nintendo's E3 digital press conference where there were some major announcements including Animal Crossing, Zelda, Luigi's Mansion 3, DQ XI, The Dark Crystal, Fire Emblem, and so so so so so much more!

Episode | June 5th, 2019 | 1 hr 11 mins

labo vr, nintendo, nintendo switch, pokemon, pokemon home, pokemon sleep, smash bros. ultimate, super mario maker 2, tetris 99, video games

New announcements from the 2019 Pokémon Press Conference such as Pokémon Home and Pokémon Sleep. We discuss Tetris 99, an expensive eShop game, Super Mario Maker 2 Multiplayer details, Labo VR, and all the new releases! Oh, and we have a new host joining the team!